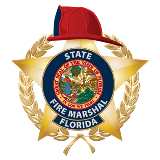 "Smoothing the way for military firefighters to become certified Florida Firefighters"
Military service members and veterans share the discipline, education and experience that's integral to becoming part of Florida's firefighting community.
OPERATION DISPATCH allows our military veterans the opportunity to apply comparative experience-based training to fulfill certification requirements to continue protecting the safety and well-being of those in our communities.
Designed to attract military service members and veterans to Florida, OPERATION DISPATCH cuts out redundant training so military-trained firefighters take 40 hours of training specific to Florida standards.
OPERATION DISPATCH allows these dedicated men and women to continue meaningful and long-lasting careers in the Florida fire service industry.
Through partnerships forged with the Florida Departments of Veterans' and Military Affairs, OPERATION DISPATCH reduces the costs associated with the Florida-specific training and testing to military firefighters. The program also allows participants to take the certification exam in a more timely fashion than the regularly-scheduled quarterly administrations, which upon successful completion helps newly-certified firefighters enter Florida's workforce faster.
If you are a current military service member or veteran and would like more information on OPERATION DISPATCH, contact:
Mary Ann Benson
maryann.benson@myfloridacfo.com
(352) 369-2815