Business Processes and Modules
---
The Florida PALM Project team is committed to helping agencies reimagine business operations as the State of Florida positions itself for a statewide transformation.
PATHFINDER
The Pathfinder is a tool to help agencies chart a path for their unique journey towards transformation. It will help with understanding of, planning for, and decision-making during the Financials Wave. It creates a connection between business processes, Florida PALM Modules, interfaces, and reports.
Download Now
Modules
A module is a segment within Florida PALM that performs specific business functions within an area (i.e., General Ledger). Modules reflect what you see in the Florida PALM system and where the transactions are completed.
Module Workgroups
View the collective resources for the Module Workgroup sessions.
Click any module icon below to view a brief description of module functionality.
Business Processes
The Florida PALM Team categorized the financial management processes used today in ten business process groupings. The following groupings will be used to organize and communicate the design of Florida PALM for the State.
Click on the image to see descriptions of each business process grouping.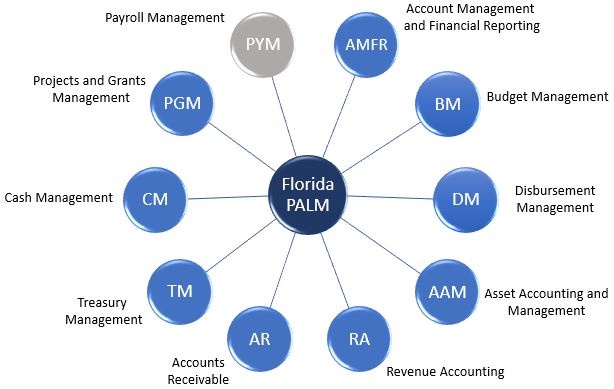 Business Requirements
Business Requirements state desired Florida PALM functionality and technical capabilities, specifying the "what" the solution should do. They are not design specifications, which detail the "how" the requirement will be met. Attachment 5.1 – Business Requirements to the SSI Contract lists all requirements for Florida PALM including the requirements implemented during the CMS wave, requirements to be implemented in the current Major Implementation (Financials and Payroll Waves), and those designated for future Optional Services (future Wave).
Business Process Models
The Business Process Models document the standardized, end-state business processes that will be implemented in Florida PALM. They are associated with the business process groupings and include a process flow and narrative.
The CMS Wave business process models document the details of the cash management processes for the CMS Wave implementation in July 2021. The Business Process Models for next major implementation will detail the Financials Wave and Payroll Wave processes. Financial Wave and Payroll Wave Business Process Models will be published after the system design for those waves has been completed.
CMS Wave Business Process Models
Select a link below to view the flows and narratives within a business process.
A
CMS Wave Summary
provides the approach used to develop the business process models, an overview of the models, and a mapping of legacy activities and processes to the CMS Wave activities and processes. The summary serves as a tool for building end-user understanding for adoption of Florida PALM at the CMS Wave.