Office of The Inspector General
---
Vision Statement
To enable the success of the Department of Financial Services while protecting the public trust.
Mission Statement
The mission of the Office of Inspector General is to promote a culture of integrity, accountability, transparency, and to facilitate improved efficiency, effectiveness, and performance.
The mission includes deterring, detecting, and investigating allegations of fraud, waste, and abuse within the Department of Financial Services or against its programs and resources.
Authority
Section 20.055 (2), Florida Statutes, provides that the Office of Inspector General (OIG) is established in each state agency to provide a central point for coordination of and responsibility for activities that promote accountability, integrity and efficiency in government. The major responsibilities of the OIG include investigations, audits, reviews, consulting and technical assistance activities.
The Offices of Insurance Regulation (OIR) and Financial Regulation (OFR) each have their own separate inspectors general. On occasion, the DFS Inspector General may work with the OIR or OFR Inspectors General on projects of mutual interest.

---
File a Complaint
The Office of Inspector General (OIG) conducts, supervises and coordinates investigations within the Department of Financial Services to detect, deter, and prevent fraud, waste, misconduct and mismanagement. Our investigations are initiated from the following sources: The Get Lean Florida Hotline; DFS employees and management; and other state employees and private citizens.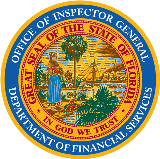 Core Values
Accountability: We must set the high bar of accountability if we are to hold all others accountable.
Transparency: We serve the citizens and tax payers of Florida and therefore must exemplify transparency.
Integrity: Integrity is the foundation for which our mission is executed – there is no room for anything less than complete honesty and morality.
Independence: We must be credible to earn the public's confidence and to be credible, we must be objective, and to be objective, we must be independent.
Excellence: We must be at our very best – always.